Reader Odai left a great question in his comment today on our plugin tutorial:
Looking at the code for The Complete Plugin, do you need to have a closing ?> for the opening <?php?

Or is it okay to just end with a }?
I learned the answer to this a long time ago, so long that I no longer think to mention it; thanks to Odai for asking so we could write about it.
An Ending for Every Beginning?
For those of us who like order it seems like an opening PHP tag <?php should always be matched to an closing tag ?> but in the case of PHP tags in WordPress plugins the truth is you are asking for trouble if you use the closing tag. But why?
PHP is for Logic Embedded in Content
PHP is an embeddable scripting language designed to allow you to embed logic in the form of PHP scripting into content, which is typically HTML. In that context the opening and closing tags make sense, such as in WordPress' theme template files. Consider the Twenty Twelve theme's page.php file sans comment header:
<

div id

=

"primary"

class

=

"site-content"

>

<

div id

=

"content"

role

=

"main"

>

<?php

while

(

have_posts

(

)

)

:

the_post

(

)

;

?>

<?php

get_template_part

(

'content'

,

'page'

)

;

?>

<?php

comments_template

(

''

,

true

)

;

?>

<?php

endwhile

;

// end of the loop. ?>
<?php get_header(); ?>

  <div id="primary" class="site-content">
    <div id="content" role="main">

      <?php while ( have_posts() ) : the_post(); ?>
        <?php get_template_part( 'content', 'page' ); ?>
        <?php comments_template( '', true ); ?>
      <?php endwhile; // end of the loop. ?>

    </div><!-- #content -->
  </div><!-- #primary -->

<?php get_sidebar(); ?>
<?php get_footer(); ?>
Except When It's Not
But in plugins you don't want embedded content[1] you only want programming code. Consider the simplest possible plugin we could envision, it disables the status bar that logged-in users would otherwise see on the front end:
The Problem is Trailing White Space
Now let's assume we added the closing ?> to this file and let's add some trailing white space such as the newlines on lines 9 through 12: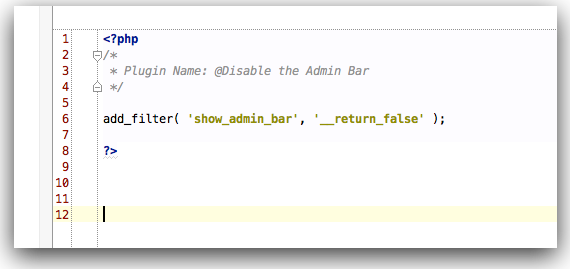 1. HTTP Headers Already Sent
The first problem with the extra white space is the "unexpected output" error you get. What unexpected output you ask? The three (3) newlines after the closing ?> tag:

Why this happens is that the HTTP protocol first sends HTTP headers after which it then sends the content. If any "content" is sent first before new HTTP headers are sent the browser doesn't know how to respond. Since plugins are loaded early in a page load WordPress has yet to send all the headers it might send and in cases like plugin activation you get errors.
2. Broken AJAX Requests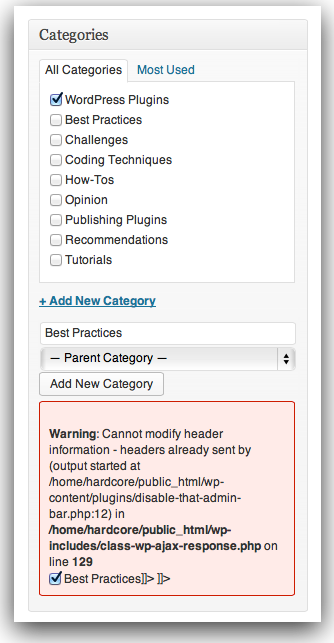 The second problem is if you are DOING_AJAX. AJAX requests expect a rigid response format, typically either JSON, XML or in WordPress sometimes Serialized PHP, and they do not work if stray characters make their way into the response.
In the screen capture to the right you can see the error message when trying to add a Category from within the post editor screen while our "@Disable the Admin Bar" plugin activated.
And in the screen capture below here's what it looks like in HTTPScoop which is the HTTP protocol sniffer[2]we use for debugging: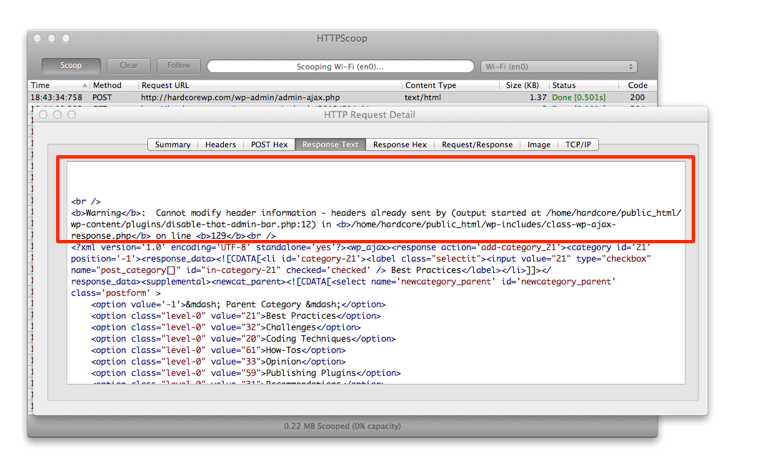 Again, for Themes?
Trailing whitespace after a closing ?> tag are not a problem with theme template files. Themes template files are always loaded after all HTTP headers have been sent, or at least they should be so this is a moot point for themes.
PhpStorm Knows All
Don't believe us? Take a look at what HardcoreWP's secret weapon PhpStorm has to say on the subject:
But, What if I'm Careful?
Yes if you are careful you can use closing PHP tags ?> in your WordPress plugins, nothing will break and it will all be good. But why? Why risk the potential that you might inadvertently add trailing whitespace without thinking, or worse that your editor, version control system or some other tool might add trailing whitespace without you even realizing it? There's zero benefit to include a closing tag and only potential downsides, so why do it?
We think the answer is clear.
UPDATE
And it's always nice to get validation. 🙂
So I should leave the final ?> off of a #WordPress plugin, correct?

— Dan Gilmore (@danhgilmore) February 13, 2013

@zamoose @mikeschinkel I could have sworn I just read a blog recommending that...and today I'm getting a whitespace error

— Dan Gilmore (@danhgilmore) February 13, 2013

@zamoose @mikeschinkel Hey look!That's the one!

— Dan Gilmore (@danhgilmore) February 13, 2013
Footnotes
With the obvious exception being when plugins have their own special template files and/or when they contribute template files or template fragments to be used in combination with the theme.

We use HTTPScoop on the Mac for US$15 although there are several others. There's Charles for US$35 which has more features but is more complicated to use, and for Windows there is Microsoft's free and excellent Fiddler2. I wish there was something as good as Fiddler2 for Mac OS X; almost makes me want to switch back to Windows...